We flew Turkish Airlines (THY) from Toronto to Istanbul, onwards to Riyadh and return to Toronto. Also took a domestic flight to Izmir. Here is a trip report on my first experience with THY and some pics to go along with it.
YYZ-IST:
We flew out on Sept. 15th, departing YYZ just before midnight. The aircraft operating flight TK 18 was B777-3F2ER (TC-JJJ) "Erzurum". Here is a pic of the aircraft while parked at gate 175 (T1):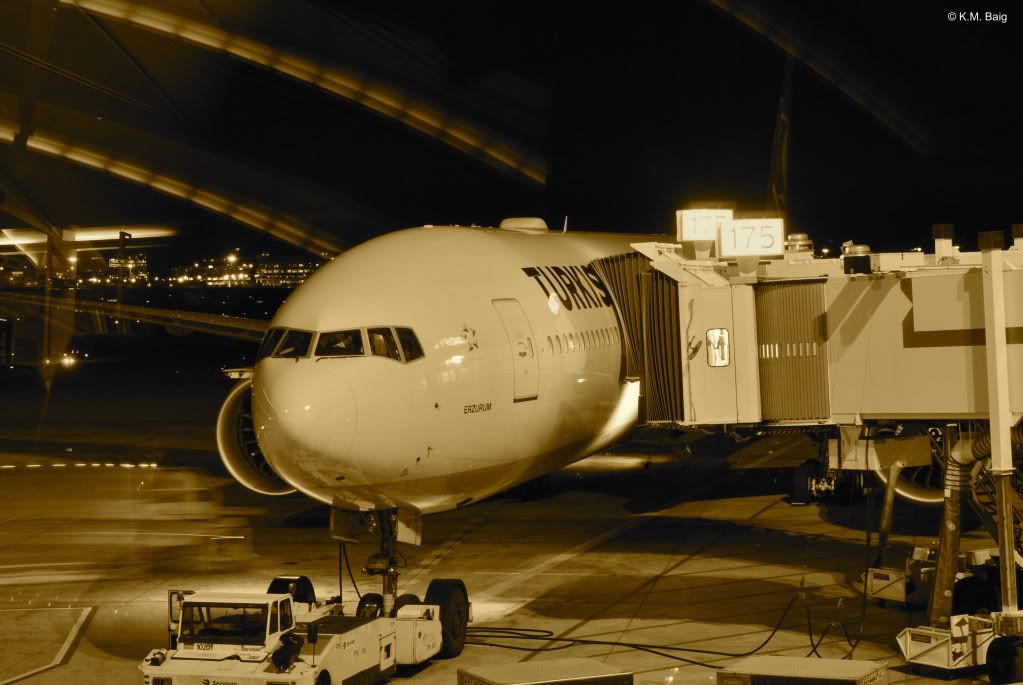 Check-in was relatively smooth, we were booked in THY's new "Comfort Class" on our flight to Istanbul. The Comfort Class is a new product offered by THY, introduced with the induction of B773 aircraft in their fleet. It is supposed to compete with the premium economy product offered by other airlines, and to a certain extent business class as well. The seat pitch was excellent when compared with economy class and the seats were very comfortable with a good reclining position, a definite plus for the 9+ hour flight to IST! The seat layout in Comfort Class is 2-3-2. IFE was also very good, with lots of movies available for a long haul flight. Here are a few pics of the cabin, seats & IFE (sorry about the quality, didn't use the DSLR for these):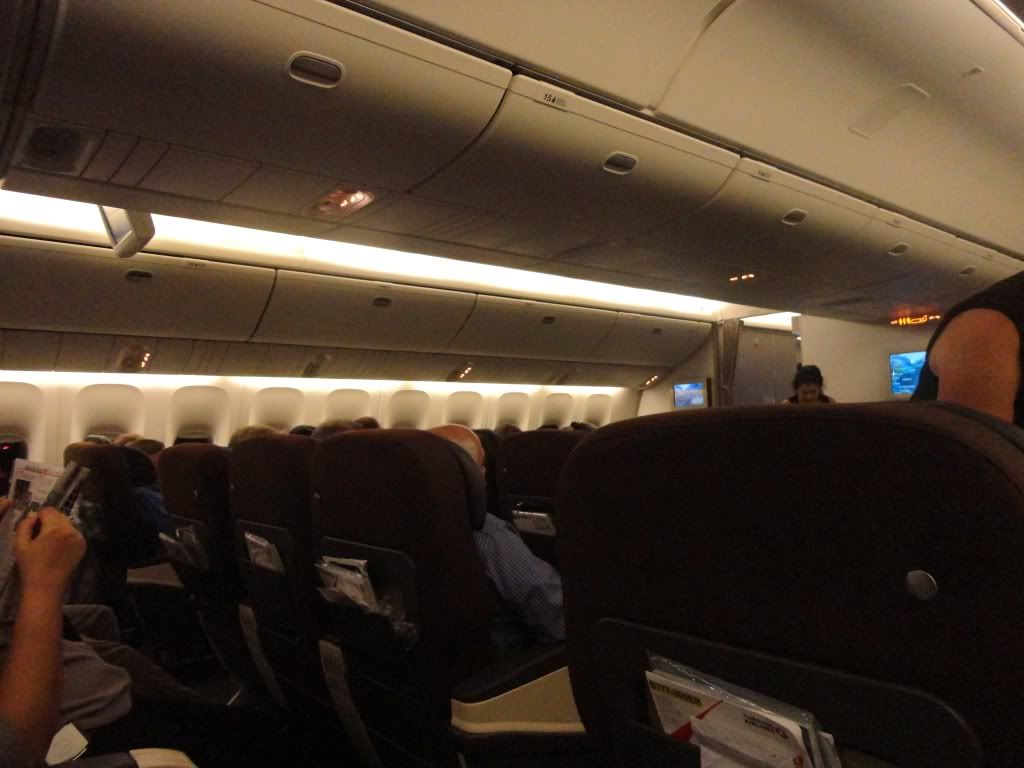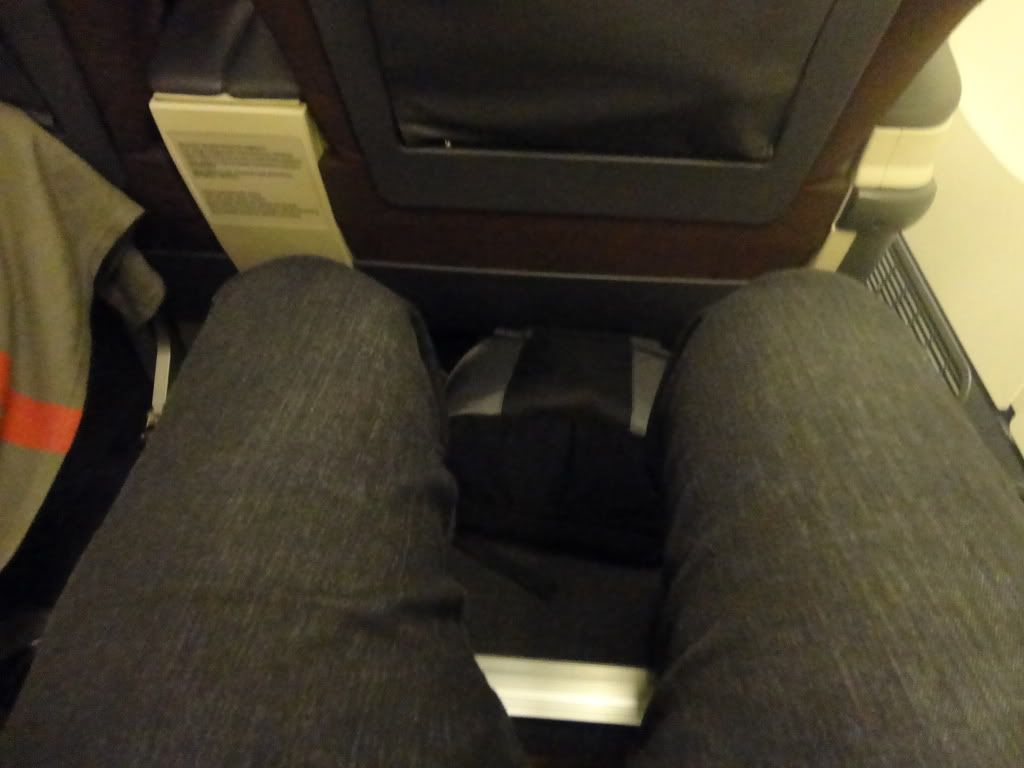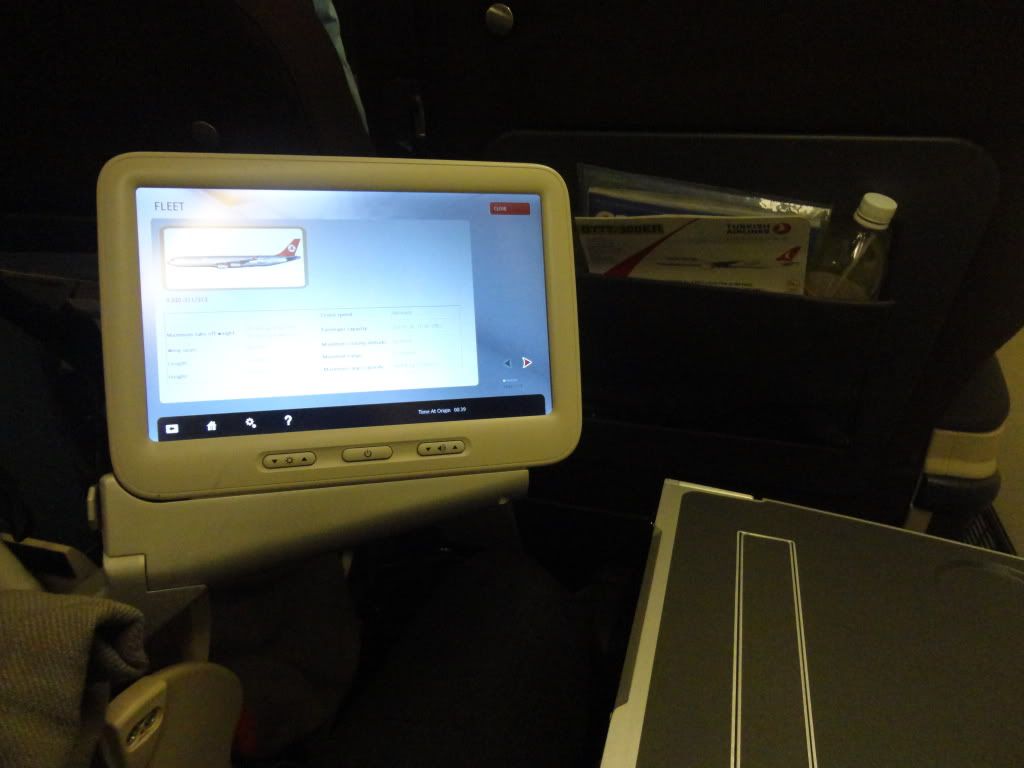 The food in Comfort class was quite good. We were served dinner about an hour after take-off and breakfast was served about 2 hrs prior to landing in IST. The choice and presentation was good, at least when compared to economy on most international airlines. Here are a few pics: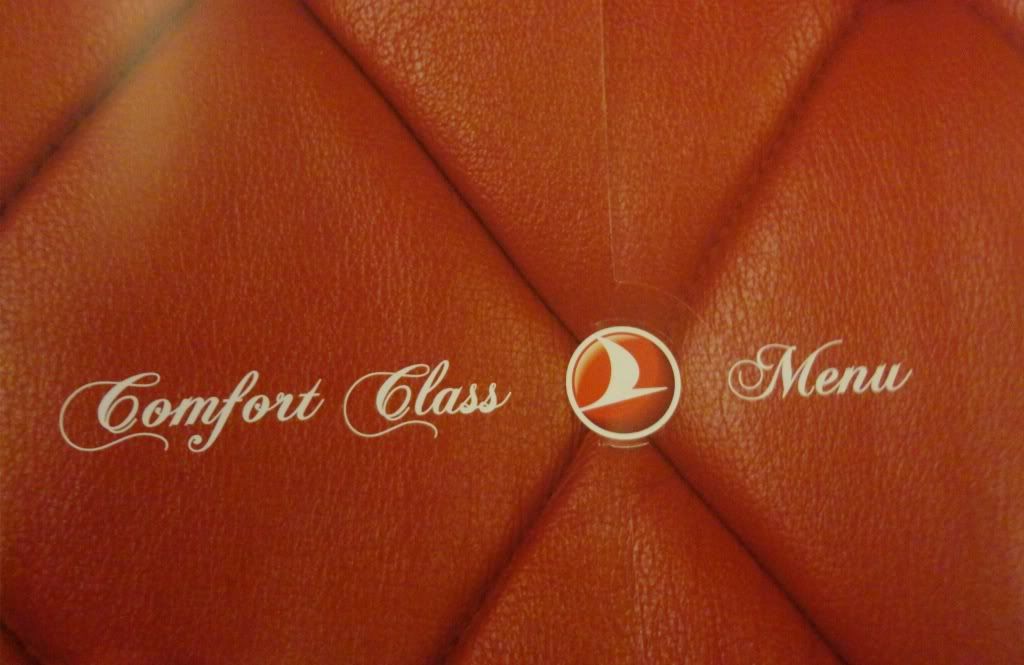 For the first course, we were served canapés, soft drinks & hazelnuts: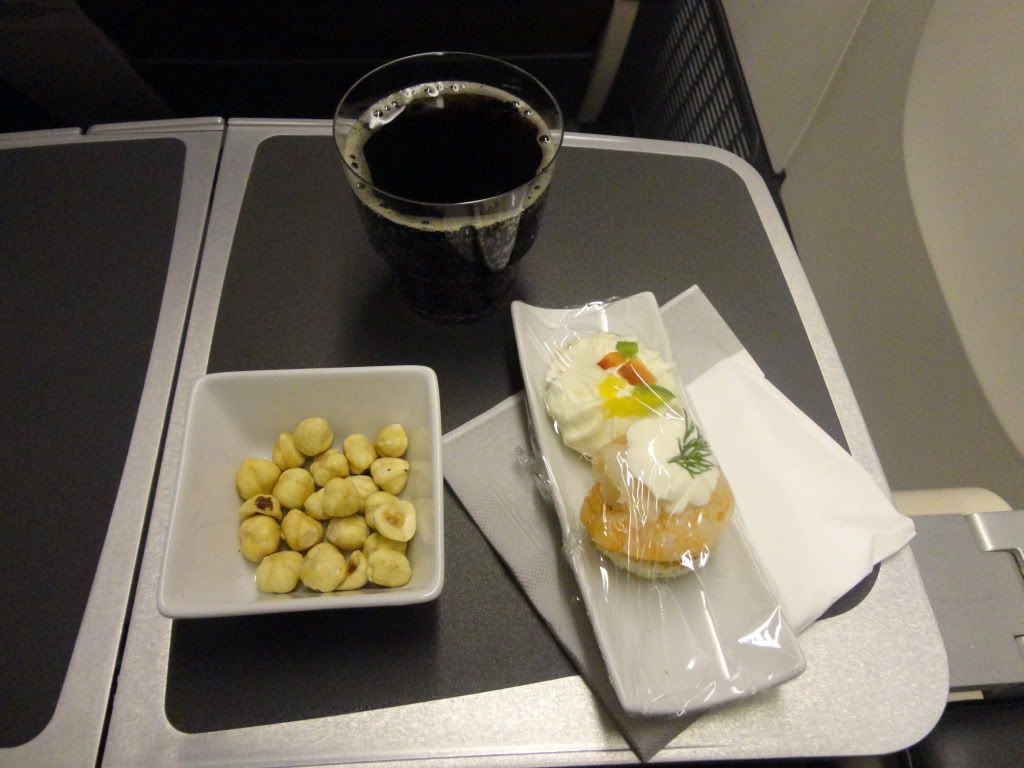 For dinner there was an option between Chicken, Fish or Pasta. I had the grilled chicken, with roast potatoes & grilled vegetables, smoked fish salad, roast beef with yogurt sauce, avocado & greens:
For dessert, we had strawberry cheesecake, fresh fruit & assorted cheese with coffee: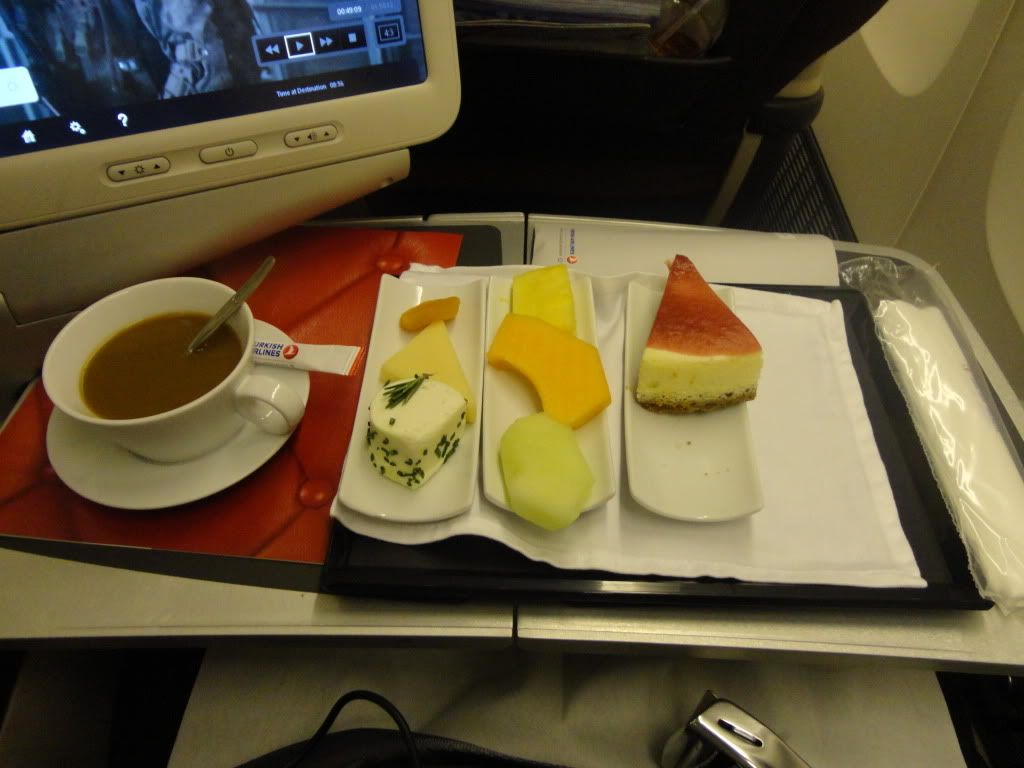 For breakfast, it was scrambled eggs and cheese toast with grilled veggies, fresh fruit salad, cheese & veggies, roll with butter & jam, Turkish tea (I loved it!!) and OJ: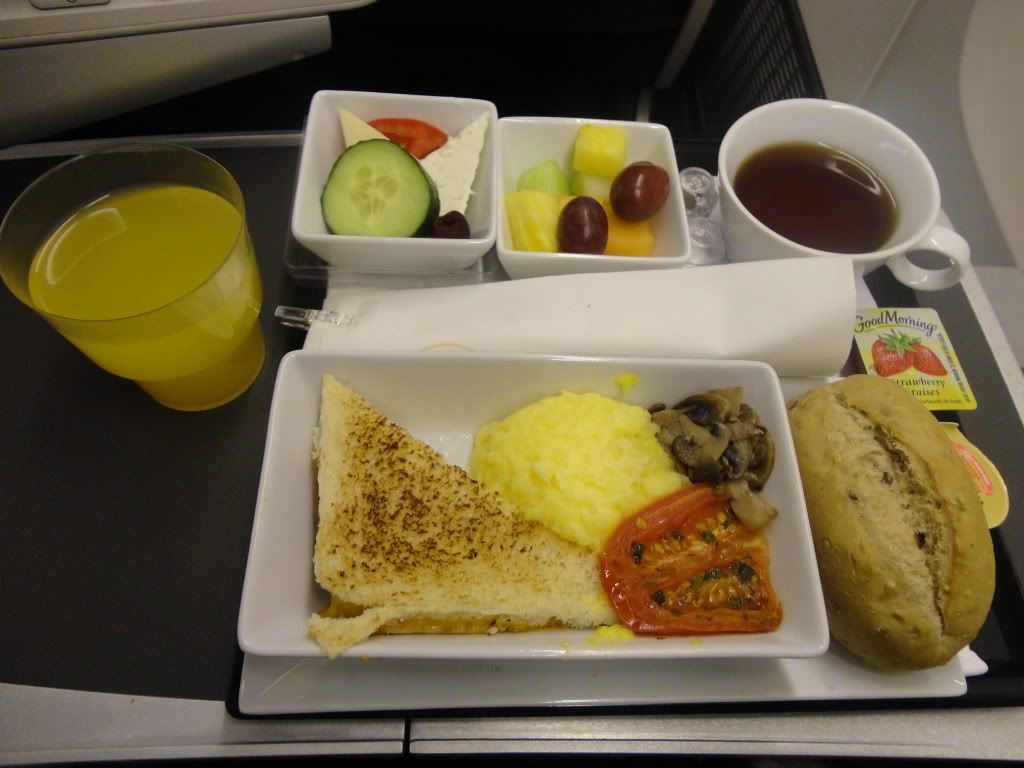 Our arrival into IST was a full hour ahead of schedule, therefore we had over 6 hours to kill. We felt regret for not booking the earlier connection to RUH, but after getting to the terminal we realized that the earlier connection was delayed over 8 hrs! That's when I remembered why I insisted on booking the longer connection!! We killed time at the airport browsing the shops (ridiculously expensive!) and had a bite to eat. Overall, I was quite impressed with IST and would certainly consider using it for a connection in the future. The only thing that surprised me was that our aircraft was made to park at a remote bay and we were bussed back to the terminal, not sure why... perhaps something to do with passport control.
IST-RUH:
After a 6 hour stay in IST, we boarded our flight (TK 140) to Riyadh. The flight was operated on a B738, which was absolutely full. Most of the pax were Saudi families returning home after a vacation in Turkey (or elsewhere) with a handful of Turks, likely heading back to jobs in Saudi Arabia. The flight departed IST on time. Dinner was served on the 3.5 hr flight and consisted of Grilled chicken with veggies, Hummus salad with bread and a chocolate mouse dessert. Unfortunately, no pics from any of the remaining flights.
RUH-IST:
Departed back to IST a week later. Flight was again operated on B738, with a full load of pax. Flight departed around 2:30 in the morning, not too far behind schedule. Dinner was served on this flight. Overall, I found the economy leg room on the TK's B738 to be somewhat tight, perhaps due to my height. However, it was bearable on a 4 hr flight. Arrived in IST a little after 6am and we spent the next one week in Turkey.
IST-ADB:
We flew to Izmir from Istanbul, to spend a few days in the region (not the city of Izmir though). This flight (TK 2320) was operated by A319, and the economy leg room on this aircraft was far better than the B738, I would say it was down right comfortable. Even though it was a 1 hr flight, a decent meal was served, which was a nice change for someone used to domestic flights in North America, where all you get on a 4hr+ flight is a soft drink and a small bag of pretzels! Landing in Izmir was a bit bumpy.
Here is a pic of the legroom on TK's A319: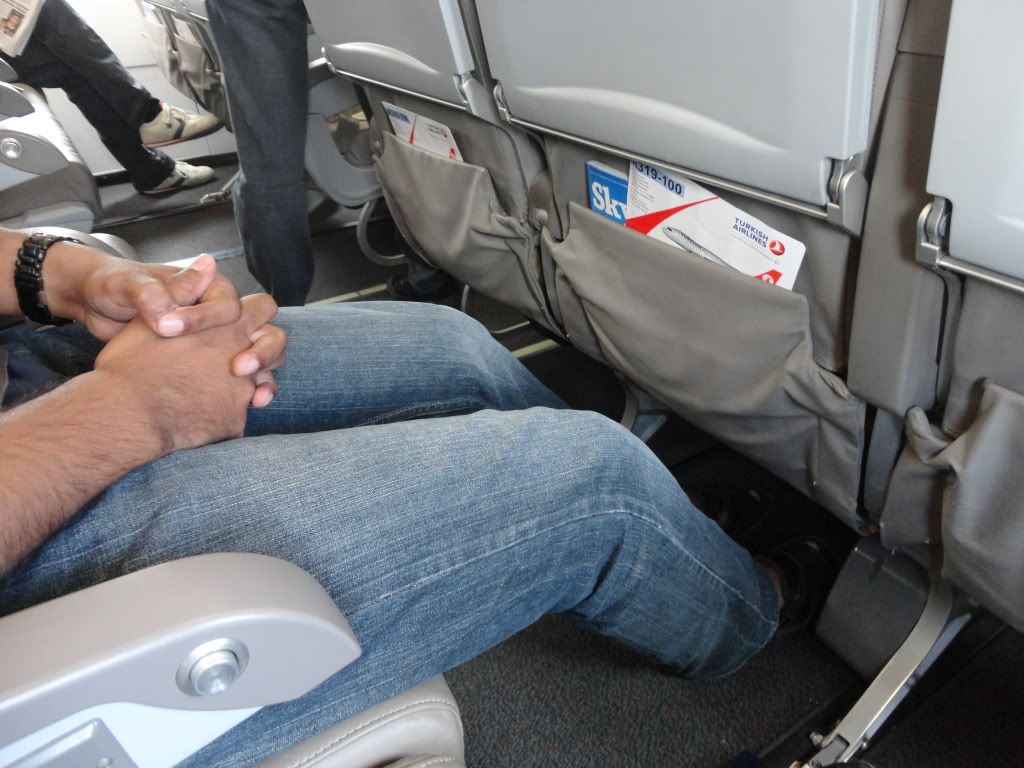 ADB-IST:
Return flight to Istanbul from Izmir was operated by a B738, departing slightly behind schedule. Once again we got a decent meal on a domestic flight.
IST-YYZ:
The day after returning from Izmir, it was time to head home to Toronto. This flight was operated by B777-3F2ER (TC-JJF) "BEYLERBEYI". We really wanted to upgrade to "Comfort Class", however it was all booked by the time we got to the check-in desk. We had tried to do it the week prior while staying in Istanbul, however for some odd reason THY wanted us to go through the hassle of cancelling the existing ticket and have a new one issued with the upgrade. Since this required a visit to a TK ticketing office, we had opted to leave it until we checked-in for the flight. The check-in took quite a while since it was nearly a full flight and this was further compounded by the thorough passport checks performed by the staff. Although not as comfortable as "Comfort Class", the economy cabin was adequate for the return journey (10 hrs). Two separate meals were served. IFE in economy was the same, as far as I can recall, the only difference being a smaller screen fitted to the seat in front of you vs. the pull out screen shown in the pics above.
Overall, it was a good experience with THY and we would certainly consider flying with them again!
I"ve posted take-off & landing videos from some of the flights in the following thread:
viewtopic.php?f=16&t=19846