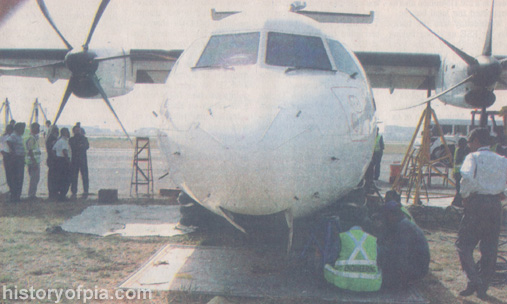 PIA ATR 42-500 (AP-BHO) seen damaged in accident at Lahore Airport -
Photo Source: The Nation (October 11 edition)
Delay in Spare Parts Clearance

PIA's Plane Not Ready for Operation after 3-month Span

Amraiz Khan

LAHORE -
An ATR plane of the PIA, which had made a crash-landing at Allama Iqbal International Airport in May last, could not be operational even after the span of over three months, causing a loss of millions of rupees to the national exchequer, it was learnt on Saturday.
Sources in the CAA told The Nation that the plane was expected to take maximum 2 months for maintenance work but due to delay in clearance of spare parts by the customs authorities the maintenance work could not be completed.
Sources in said that presently the plane was parked at the hanger reserved for the Punjab Governor's aircraft to avoid payment of heavy parking fee in case of its parking at other areas controlled by the CAA.
At the time of accident, there was perception among the aviation experts and PIA engineering circles that the airlines would have to spend amount on its maintenance equal to price of a new plane.
It was a brand new plane and replaced a Fokker one a couple of years back after an air crash in Multan.
The ill-fated plane consisted of less than 50 seats and was used for domestic operations on shorter routes. Sources said the plane is on the final stage of its repair and it would take its test flight within ten days.
They disclosed that 6-member French experts team from Airbus company immediately arrived after the crash-landing for the assessment, who decided that repair to be accomplished by Airbus engineers. They sent spare parts of the plane to France for inspection, repair and replacement. But at their return, the Customs authorities took a lot of time at AIIAP for clearance.
An engineer said that French engineers along with two PIA's engineers have almost completed their task, sources disclosed. When contacted, the PIA spokesman confirmed that the ATR plane had been under-operation in the past but they denied the existence of such plane at Lahore Airport at present.
Source: The Nation
(October 11 print edition)